Company Industry
Job Description: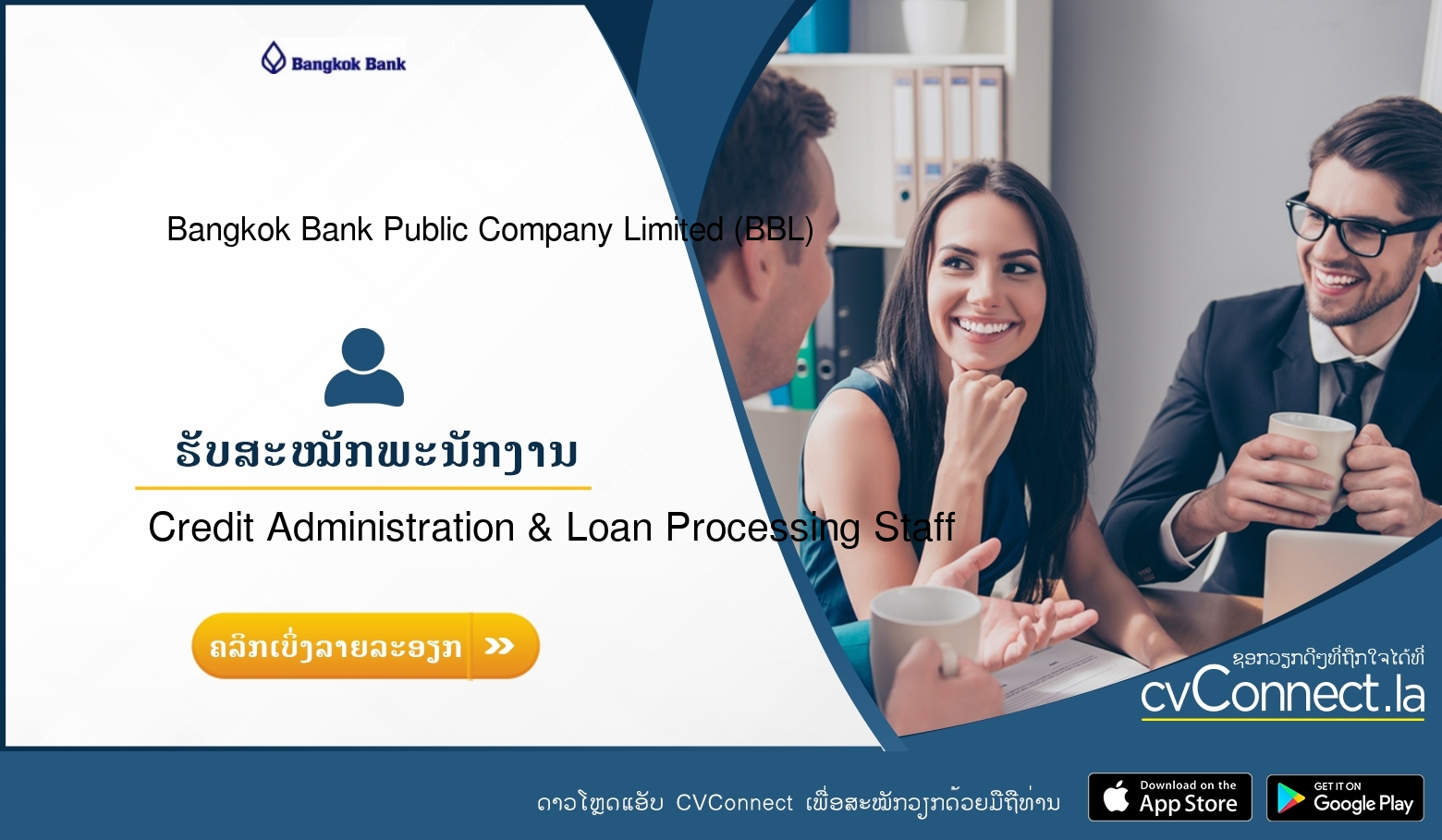 Bangkok Bank Public Company Limited, Vientiane Branch
Vacancy Announcement
Bangkok Bank Public Company Limited (BBL) is the largest commercial bank in Thailand and one of the largest regional banks in Southeast Asia. BBL Vientiane Branch was established in 1993, providing full corporate banking services. In line with our expansion plan, we are inviting self-motivated and result-oriented individuals to join our team and to share in our success and growth.
(The successful candidate will be placed at Bangkok Bank Pcl., Pakse Branch)
Credit Administration & Loan Processing Staff 1 position
Responsibilities:
Prepare and check facility and security document
Check and comment on facility and security documentation prepared by lawyer
Prepare daily application of credit facilities to facilitate loan releases, renewal and necessary accounting entries related
Prepare term sheet of Bank Guarantee, Letter of Credit, Standby Letter of Credit and submit to CBLC HO for setting up, etc.
Requirements:
Minimum 2 years working experience
Legal experience would be an advantage.
Bachelor's degree in Accounting/Business Administration/Economics or related fields
Excellent interpersonal skills and communications skills are needed
Ability to work under pressure and tight deadlines
High motivation, loyalty, positive attitudes are required
Excellent computer skills and database literacy, especially in MS Word, MS Excel, etc;
Good in English – Speaking, reading and especially writing;
Ability to communicate in either Thai or other languages is a plus.
Interested candidates please submit latest resume together with a cover letter, copies of all educational and work experience certificates and a recent photo before 30 May 2020

Bangkok Bank Public Company Limited, Vientiane Branch
Unit 12 Samsanthai Road,
Vientiane Capital, P.O. Box 5400
Tel: (856-21) 213-560
Fax: (856-21) 213-561
E-mail: bblvte.hr@gmail.com
Please indicate "Application for Credit Administration and Loan Processing Staff – Your Name" on the envelope and in the subject line of the e-mail. Applying via e-mail is preferable.
Only short listed candidates will be contacted for interviews. All applications will be kept confidential.
Search more jobs on full job listing page: All available jobs
* Please click on below button "Apply for this job" to submit CV via our website
---