Company Industry
Job Description: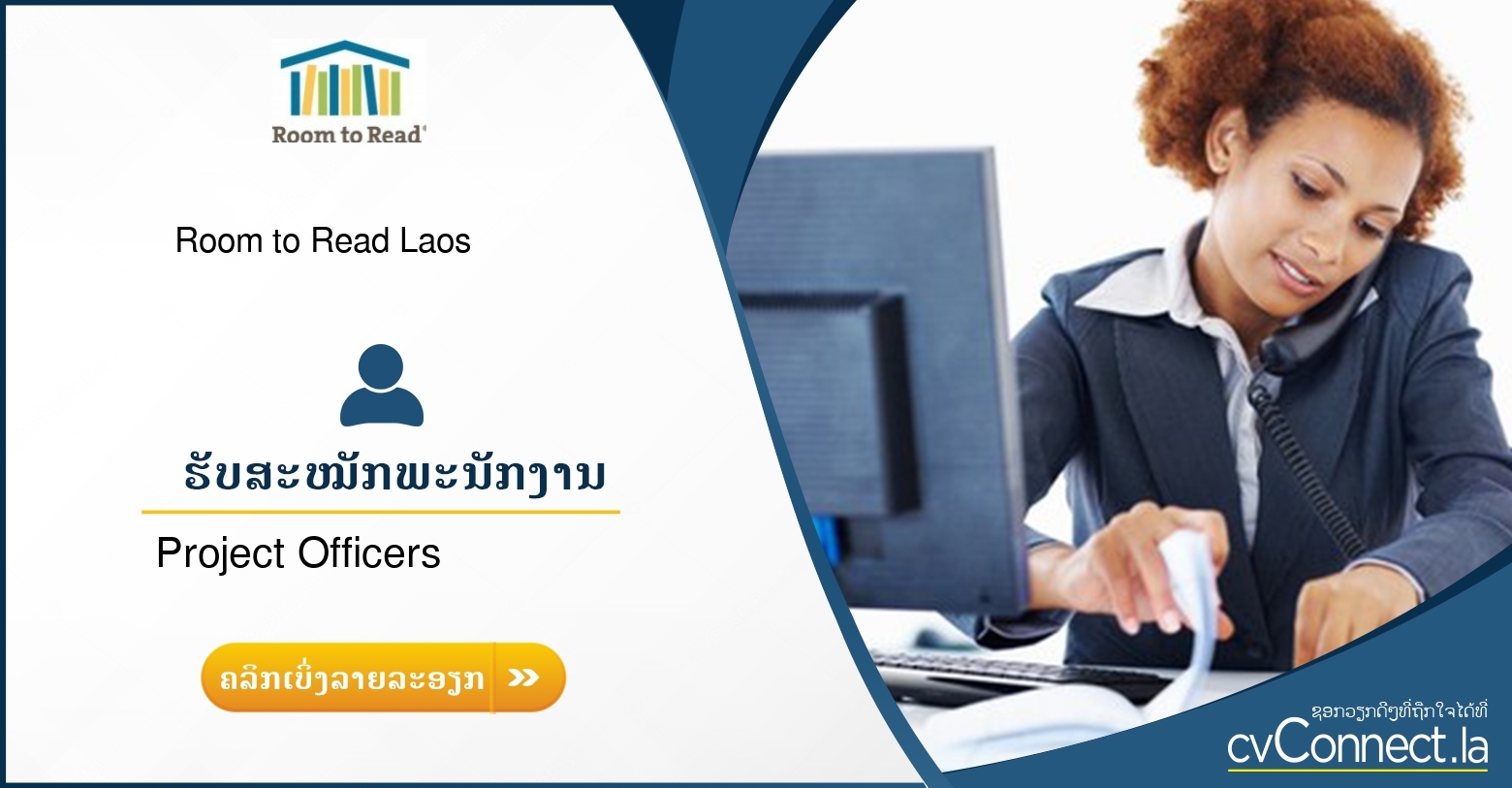 Project Officers
(For Lao Nationals)
Application close: 18 June 2019
Room to Read is a global organization transforming the lives of millions of children in low‐income countries by focusing on literacy and gender equality in education. Founded in 2000 on the belief that World Change Starts with Educated Children®, our innovative model focuses on deep, systemic transformation within schools in low‐income communities during two time periods which are most critical in a child's schooling: Literacy Program – early primary school for literacy acquisition; and Girls' Education Program secondary school for girls' education. We work in collaboration with local communities, partner organizations and governments to develop literacy skills and a habit of reading among primary school children and ensure girls can complete secondary school with the skills necessary to negotiate key life decisions. Room to Read has benefited 12.4 million children across over 20,000 communities in Bangladesh, Cambodia, Grenada, India, Indonesia, Jordan, Laos, Myanmar, Nepal, Rwanda, South Africa, Sri Lanka, Tanzania, Vietnam and Zambia, and aims to reach 15 million children by 2020. Learn more at www.roomtoread.org.
Room to Read started working in Laos in 2005 and had been supporting education development in 10 provinces throughout Laos. We are seeking an experienced Project Officers for the USAID Learn to Read activity, a five year (2018‐2023) basic education intervention, implemented by a consortium led by Save the Children International (SCI) and its partners Room to Read (RtR) and Humanity and Inclusion (HI).
7 Project Officers, USAID Learn to Read Accelerator, Base in District Education Office, Champasack/Attapeu.
Position Overview:
The Project Officer (PO) is based at district level and is responsible for the implementation of USAID Learn to Read project activities for a set of schools and communities. S/he serves as the main contact with school principals, village leaders and teachers in Pre‐Primary, Grade 1 and Grade 2, and also works closely with the DESB office of MoES. The PO supports reading improvement interventions across assigned project schools and communities, makes frequent field visits to monitor and ensure adherence to the project design, and demonstrates a solution‐oriented approach to challenges encountered. The PO serves as a technical resource for literacy improvement and community mobilization in assigned schools, and provides coaching and refresher training to school directors, teachers and VEDCs. The PO reports to the Provincial Coordinator in Champasack or Attapeu. The Project Officer has specific duties and responsibilities (For the full TOR, please visit our website). In the event of a major humanitarian emergency, the role holder will be expected to work outside the normal role profile and be able to vary working hours accordingly.
Qualifications:
Required:
University degree in education, social development, or equivalent preferred
Minimum of 2 years work experience with in development project, preferably in education;
Good training and facilitation skills;
Good written and communication skills;
Good interpersonal skills and a team player;
Ability to travel to target schools in agreed district;
Good computer skills, including Microsoft Word, Excel and internet‐related applications.
Preferable:
Teaching experience well preferred;
Prior experience working with schools, teachers, administrators and government officials, particularly at pre‐primary and primary school level;
Strong knowledge of approaches to language and reading educat
Effectiveness in working or volunteering in a non‐profit organization that is focused on maintaining high quality work and low overhead;
Knowledge of ethnic languages spoken in the project target districts is an advantage.
Compensation & Benefit
Room to Read Laos value our staff commitment and offers the professional working environment, a competitive monthly salary and other fringe benefits such as: 13th Monthly salary, AGL Premium Insurance for its staff and Medical Insurance for the family members, Annual Medical Check‐up, Retirement Funds, Phone Allowance, etc.
This USAID Learn to Read Activity is funded by USAID and led by Save the Children Laos, a child rights based organization.
Room to Read is proud to be an equal opportunity employer committed to identifying and developing the skills and leadership of people from diverse backgrounds
Application Procedure
Please submit your application through our online recruiting system at below link, which should include your update Resume/CV with Cover Letter.
Search more jobs on full job listing page: All available jobs
* Please click on below button "Apply for this job" to submit CV via our website
---