Company Industry
Job Description: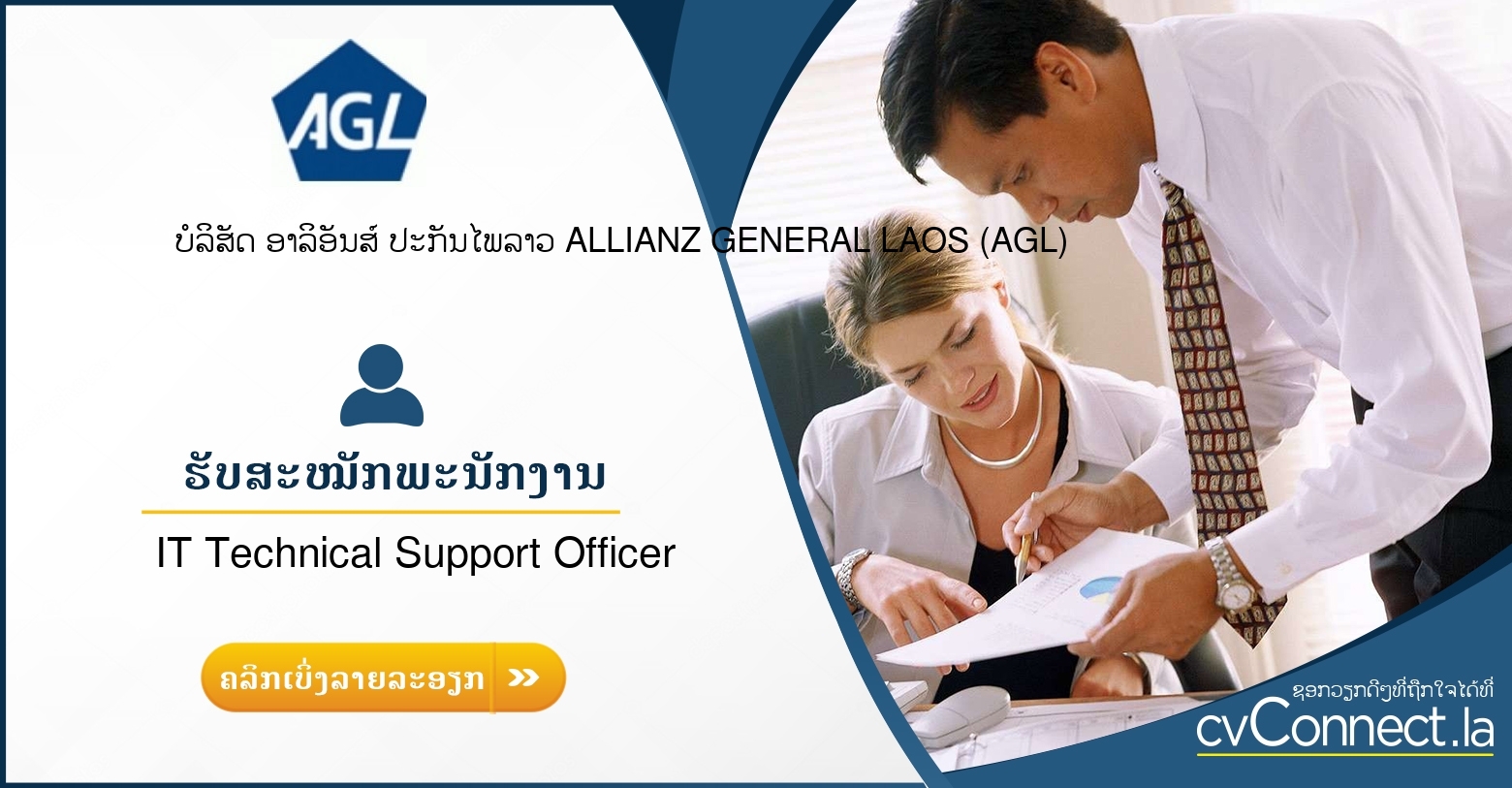 Allianz General Lao (AGL), the leading insurance company in Laos, was established in 1990. AGL is a joint venture between the Ministry of Finance of Lao PDR (MoF) and Allianz SE, the world leading insurance and financial services provider. With over 25 years experience in Laos, the AGL enjoys a very good reputation among local and international customers. We provide friendly working environment, mixture of different culture and competitive salary. Now, we are looking for dynamic employee to join with us in Headquarter office in Vientiane as below position:
IT Technical Support Officer (1 Position)
Duty and Responsibility:
Installing and configuring computer hardware operating systems and applications;
Monitoring and maintaining computer systems and networks;
Support staff through a series of actions, either face to face or over the telephone to help set up systems or resolve issues;
Troubleshooting system and network problems and diagnosing and solving hardware or software faults;
Replacing parts as required;
Providing support, including procedural documentation and relevant reports;
Supporting the roll-out of new applications and new update;
Support on accounts and password issues;
Prioritizing and managing many open cases;
Conducting electrical safety check on computer equipment planning and undertaking scheduled maintenance upgrades;
Logging agents/employee queries in IT systems;
Filling under request form for tracking;
Inventory Hardware and Software;
Provide emergency 24 x 7 on call supports both locally and remotely;
Qualifications & Skills requirements:
Males aging between 20 - 35 years
A degree in related computer sciences, computer engineering or related fields.
Minimum 1-2 years of experience in configuring and troubleshooting of IT hardware, software , Windows 7/10
Strong technical aptitude and ability to research & solve complex issues independently
Capable of working well under pressure
Good command of English
Good human relationship, being able to work in team and willing to work hard
Enthusiasm to be continually learning.
AGL offers:
Competitive salary
Great career progress opportunities
Comprehensive on job training
A friendly and supportive work environment
Search more jobs on full job listing page: All available jobs
* Please click on below button "Apply for this job" to submit CV via our website
---